Nathalie Lete
was born in 1964. She lives and works in Paris. She works in many ways, mixing different techniques and mediums,
illustration, ceramics, textile and painting... She is inspired by her travels, but also by the mixing of vintage toys and old engravings of
flowers and animals. Her work is colourful, naive and poetic, sometimes strange, to the point of tending towards art brut.
Her world is nurtured by popular and folk art from her both origins (her chinese father and her german mother).
She produces children's and graphic's books, and has many collaborations with Vilac, petitcollin and anthropology to name few, knitted and stuffed toys, glass pictures, patterned dishes, but also postcards,
ceramic sculptures, silkscreen printed t-shirts, rugs and jewels in limited edition... both for herself and for commissions.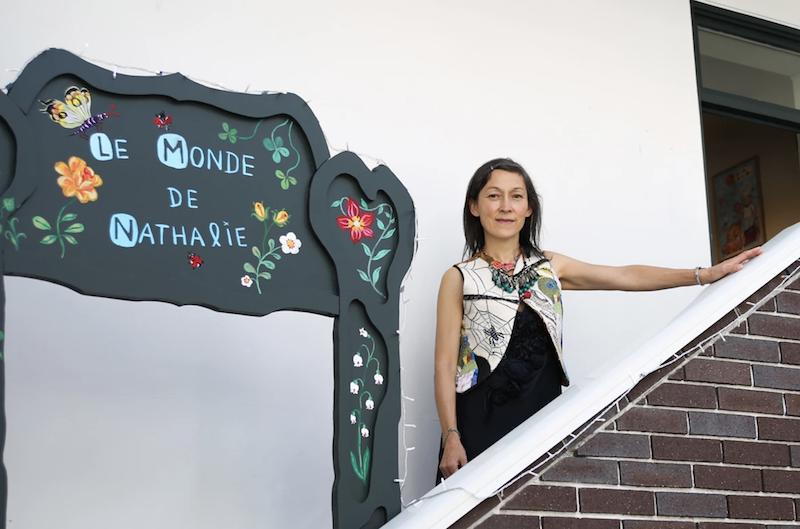 Sylvia Natterer
was born in 1949, she is swiss. As a child Sylvia made her own dolls and doll houses to play with, and as a child and young adult she won prizes for drawing and painting. A logical career choice was to become a teacher, she studied for a couple of years and afterwards she taught creative subjects. In this period she experimented, she was for the first time making dolls with papier-mâché. Also she worked in theatre performances with her dolls. After the birth of her daughter Sylvia stopped teaching. But she did remain creatively active, since then she has been especially busy with marionettes an dolls. In 1975 Sylvia and her family moved to München and here she joined the puppet theatre for adults "Kleines spiel". In this year she also made her first doll from wood composition, for her daughter after that she made many more, different every time. In 1976 her first son is born and in 1978 her second son is born. In the years that follow Sylvia is part of various different presentations and wins a couple of prizes. Throughout the years she becomes members of different artists clubs. Besides that she directs herself to business and makes doll making her profession; one of her designs for a doll was added to a collection by Zapf at the end of the 80s, it was called "Colette". In 1982 she started with the experimentation of casts for porcelain dolls. The models for her wooden dolls are a big help here. As an artist Sylvia keeps developing and after bandits, thieves and devils she has landed at the making of children and babies. She wants the doll faces to be friendly, soft, honest and innocent just like a child. But dolls need to remain dolls she thinks, her favorite thing is to let the child or collector use their fantasy. Next to the porcelain dolls Sylvia Natterer also got the firm Götz to make her dolls in vinyl under her own name. she herself sees the porcelain dolls as practice to keep making better playing dolls. Because an industrial design has even higher demands than a design for a porcelain doll. Her latest development is that she is making dolls from paper.